Power Distribution

Safely Power Up Anywhere!
Indoor, outdoor, portable, or mounted, MELTRIC has the right industrial power distribution solution for you! For added safety and reliability, our custom power distribution solutions feature MELTRIC Switch-Rated plugs and receptacles which can make/break under full load. If your current equipment can't do that, you need MELTRIC!
Product Range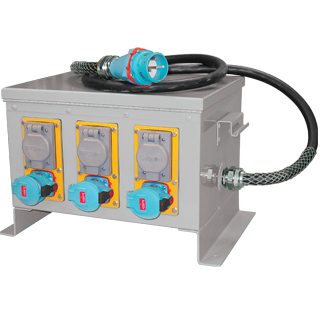 Custom Configurations
Every job site and facility are different, so we create custom power distribution solutions to match your specifications. Whether your job is large or small, the MELTRIC engineering team will work directly with you to create custom configurations to meet your needs. MELTRIC Custom Solutions are ideal for welding, generators, construction, shore power, or anywhere else you need reliable power.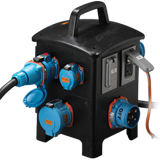 Rubber Boxes
When you're on the move, MELTRIC Rubber Boxes offer the durable, compact portability you need to get the job done! Quality, UL Type 3R watertight enclosures feature heavy-duty rubber to withstand rough handling and harsh conditions. Input up to 100A. Standard and custom configurations available.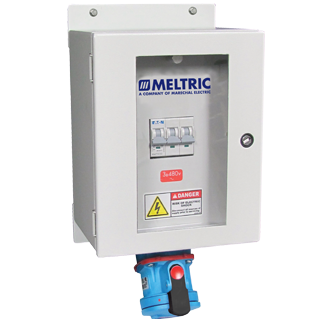 Circuit Protected Receptacles
MELTRIC manufactures a variety of specialty products which allow facilities to benefit from Switch-Rated receptacles in combination with other devices including circuit protected receptacles, receptacles with GFCI protections, and receptacles mounted on safety switches. Standard and custom configurations are available.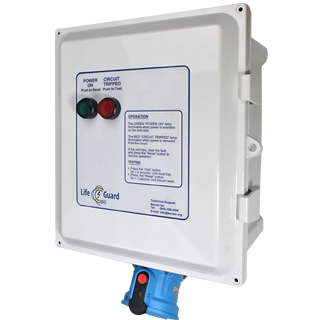 Receptacle/Ground Leakage Panel Combinations
MELTRIC DSN Series Switch-Rated receptacles pre-mounted on UL 508A Ground Leakage Panels provide safe electrical connections while the panel detects ground leakage currents in all stages of power conversion equipment. The receptacle/ground leakage panel combinations are simple to install and require a minimal amount of connections. Standard configurations are available from 20 A to 100 A and up to 600 VAC.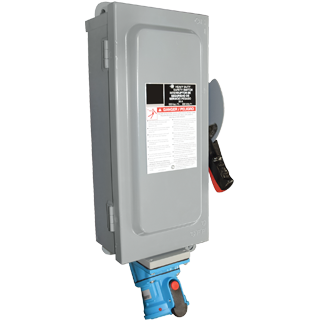 Disconnects - Safety Switch/Receptacle Combinations
Need additional overcurrent or short-circuit protection for your power supply applications? MELTRIC non-interlocked safety switch disconnects are the safe solution! We use MELTRIC UL/CSA listed Switch-Rated devices, so there is no need for the receptacle to be interlocked to the switch. The load may be safely made or broken by throwing the switch lever or by simply connecting or disconnecting the plug.
Quick Links