Find MELTRIC in the News as we Announce Release of New DSN100 Plug and Receptacle
In April 2022, MELTRIC announced the release of brand new Switch-Rated, 100 A, 600 hp plug and receptacle to complete DSN Series, the DSN100. The DSN100 has the same great features and benefits as other DSN Series Switch-Rated models.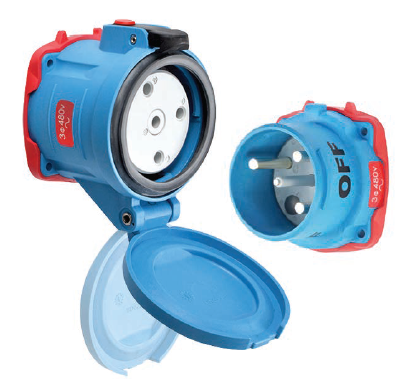 The DSN Series ratings range from 20-150 A and .75-75 hp. All models are 100 kA short circuit rated for maximum protection and have ingress protection ratings of 4X/IP69/IP69K protecting the internal electrical components from dust, liquids, high water pressure, and high temperature. Auxiliary contacts can be added on each DSN model to control auxiliary equipment, monitor process parameters, and/or communicate alarms without the need for secondary connectors. All of these benefits are wrapped up in a compact light-weight design with a fiberglass reinforced thermoplastic polyester casing that is resistant to impact, corrosion, and harsh environmental conditions (metal casings are also available for the DSN100 and DSN150 models).
Find the DSN100 in the following publications:
Airport Improvement - https://airportimprovement.com/news/meltric-announces-new-product-release-dsn100-plug-and-receptacle
BIC - https://www.bicmagazine.com/resources/products-services/meltric-announces-new-product-release/
Electrical Line - https://electricalline.com/meltric-introduces-new-100-plug-and-receptacle-dsn-switch-rated-product-line
Electrical Safety in the Workplace - https://www.electricalsafetypub.com/new-products/meltric-announces-new-product-release-of-dsn100-plug-and-receptacle/
Reliability Web – https://reliabilityweb-com.cdn.ampproject.org/c/s/reliabilityweb.com/amp/switch-rated-plugs-2657180910