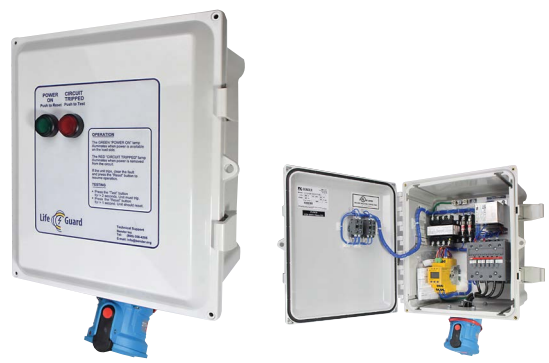 The GFCI panel box presented in the MELTRIC catalog as Receptacle/GFCI Combinations, has changed UL status.
Originally classified to meet the UL 943 standard for GFCI protection, a standard change now requires the panel to have a self-checking automatic circuit detection system to remain UL 943 compliant. While the GFCI panel still offers protection from nuisance tripping, it does not include a self-checking option, so it no longer technically meets the UL 943 standard. Because of this change, we can no longer classify the panel as a GFCI product.
The panel box does meet the UL 508A standard as an Industrial Control Panel. Until we find a suitable GFCI panel box replacement, we will continue to use the current box rated to meet UL 508A.
Updates
have been made to the MELTRIC online and digital listings. Below is the updated
product copy:
Receptacle/Ground Leakage
Protection Combinations
MELTRIC DSN Series Switch-Rated receptacles pre-mounted on UL 508A Ground Leakage Protection Panels provide safe electrical connections while the panel detects ground leakage currents in all stages of power conversion equipment. The receptacle/ground leakage protection panel combinations are simple to install and require a minimal amount of connections. Standard configurations are available from 20 A to 100 A and up to 600 VAC.
Protection against nuisance tripping
For grounded and high-resistance grounded systems
Voltage options up to 600 VAC
Inverse time curve to help prevent nuisance tripping
Options for adjustable trip level
ON and Trip indication
If you have questions or concerns regarding the product UL listing change, please contact the MELTRIC Engineering Department at engineering@meltric.com.