Press Release
For Immediate Release
December 20, 2018
Contact: Kim Cavaliero-Keller
Email: kcavaliero-keller@meltric.com
Franklin, Wis.—A recent visit to Santa's workshop and distribution center at the North Pole revealed the installation of MELTRIC plugs and receptacles throughout the facility!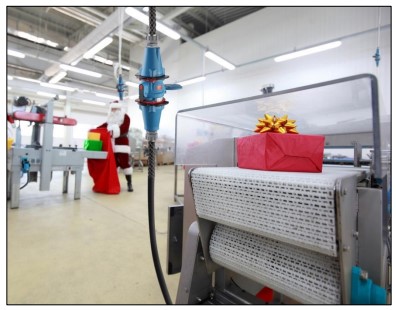 Why does the Jolly Old Elf rely on MELTRIC? Santa explained, "While I'm always busy, this is my busiest time of year! I need dependability to keep the motors running, the conveyors moving, the packing machines packing, and my elves meeting their manufacturing margins." He continued, "If we need an equipment changeout, I know we can count on MELTRIC to keep it fast, easy, and safe."
Santa shared that he and his team work all the way up to Christmas Eve to prepare for the big day. "Boys and girls around the world are expecting me," he said, "They've been so good all year long; we have to make sure that everyone receives their gifts! I can't wait to deliver all the fun surprises!" With that, Santa excused himself and went back to work with a chuckle and the words, "Lots of work yet to do." He added, as he headed back to the manufacturing floor, "Merry Christmas to all! Be good, see you soon!"
The MELTRIC Corporation family wishes you and yours a joyous and safe Holiday Season!
Franklin, Wis.-based MELTRIC manufactures a comprehensive line of industrial plugs and receptacles, including UL/CSA switch-rated plugs and receptacles. Visit meltric.com to learn about our industry-leading products and our continued emphasis on safety and quality.
Plug into Quality with MELTRIC.
###