Press Release
For Immediate Release
March 20, 2019
Contact: Kim Cavaliero-Keller
Email: kcavaliero-keller@meltric.com
Franklin, Wis. — MELTRIC's Switch-Rated DS200 plug and receptacle has been upgraded to include horsepower (hp) ratings from 40-100, depending upon voltage.
This CSA-listed product also boasts a rating increase to 600VAC and a new 6-pilot configuration*. The upgrades make the DS200 480 and 600VAC 100 hp configurations the most powerful switch-rated device in the industry.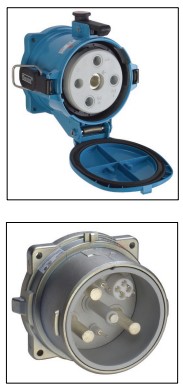 The DS200 with hp and motor circuit switch ratings is a CEC-compliant motor disconnect. The new ratings expand MELTRIC's product offerings up to 100 hp, where the CEC requires a specific hp-rated disconnect.
DS200 Switch-Rated plugs and receptacles feature MELTRIC's spring-loaded, silver-nickel, butt-style contacts. The devices are built to withstand corrosive environments, while delivering exceptional performance and reliability. Receptacles include standard lockout holes for easy CSA Z462 lockout/tagout compliance.
A full line of accessories is available for DS200 Switch-Rated plugs and receptacles. Click here for additional product details.
The upgraded DS200 is available for immediate shipment.
*The new 6-pilot contact configuration is also available for the DR250.
Franklin, Wis.-based MELTRIC manufactures a comprehensive line of high-performance industrial plugs and receptacles for use in power supply and control applications. Visit meltric.com to learn more about our industry-leading products.
Plug into Blue.
###